RECENT PROJECTS:
Campaign: Slap Deals.com (March 2014)
SNAPDEAL.COM: THE GREAT INDIAN E-ROBBERY
Pressure Group Design & People sues Snapdeal.com and launches 'Slap Deals.com' campaign to educate first-time online buyers. The group is also filing a Public-Interest Litigation (PIL) under Article 32 of the Indian Constitution demanding a ban on portals engaged in fraudulent practices in India.
DESIGN & People was recently approached by two young online buyers to explain how they were cheated of their hard-earned money by New Delhi-based Snapdeal.com. When we explained about how a business model which has a customer base of 20 million could make 'few errors with deliveries', we were asked to do a simple Google search for the words "Snapdeal Fraud". The results were astonishing and even shocking! Snapdeal.com invites millions of complaints and abuses by its own customers who were cheated by this 'award-winning' shopping portal. You may try this yourself to find out what Snapdeal.com does to its first-time customers in order to meet the sales target of US$1 billion by the end of 2015.
Online portals such as Snapdeal.com commit frauds in the most tactful ways — by teaming up with courier companies and resellers for 'strategic delay deliveries' and by manipulating records online. Though many online shopping portals may appear to be on an 'auto-pilot mode', it is well understood that selected employees with clear instructions from the top management are directly or indirectly involved in malpractices — taking advantage of the ignorance of online buyers, mostly first-time buyers. You may note that in March 2013, Directors and Chief Operations Officers of online shopping portals have been arrested in New Delhi for allegedly duping people by taking money from them for articles which were never delivered.
Snapdeal.com is the Great Indian E-robbery of our times! Act now to stop corporate crimes! Spread the word!
"Largest corporations are training the brightest Indian minds to be corrupt and dishonest, so that they can continue their legacy of unethical business practices that harm our people, environment and society. Corporate Social Responsibility (CSR) is no license to anyone to indulge in corporate crimes."
Sethu Das, Co-founder, Design & People
A DESIGN & PEOPLE PUBLIC AWARENESS INITIATIVE
▮ Slap Deals.com Campaign: Case Study & Petition
Design & People Green Initiatives (2014)
PROJECT: "PAPER IS PRETTIER"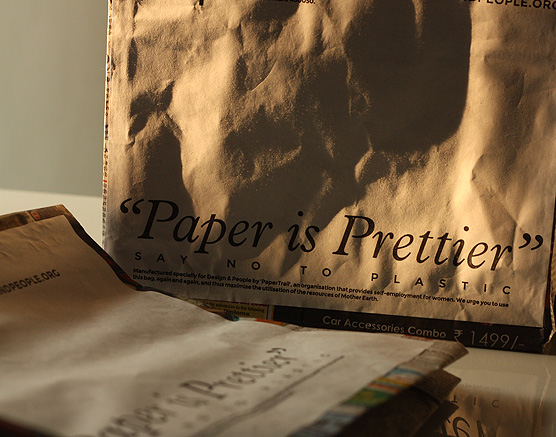 PLASTIC, described as "a threat greater than an atom bomb" by the Supreme Court of India is everywhere. Plastic dominates our lives and poses a great threat to our fragile environment and all the inhabitants of planet earth. Unless there is a global ban on the use and manufacturing of plastic for temporary use, the next generation would certainly face risks beyond our imagination. This is bound to happen.
The most fatal menace the modern world face is the increasing pollution from plastic. The plastic items that we conveniently throw away after use will not degrade or decompose for at least 5000 years, all the while poisoning our soil, our water and our air. There are hundreds of initiatives organised all across India by individuals, organisations and institutions to bring an end to the plastic culture of our society. All such pure initiatives of the past were defeated simply because of the acts of our governments, decision-makers and designers who collaborate and work closely with plastic Industry; manufacturers of plastic; multi-national companies whose agenda is to dump toxic materials in developing nations and the educated section of the society which has no hesitation using or later dumping plastic in our backyards. Our cruelty on our environment is also extended to our oceans. The United Nations recently reported that 46,000 pieces of plastic are estimated to be afloat on every square mile of our oceans.
Design & People implements a strong 'No Plastic Policy' in all its projects and programmes. Our commitment is also our message on environment protection. We discourage the manufacture, use and sale of plastic and promote the use of products made of cloth, jute, paper or other bio-degradable materials. Design & People works closely with Paper Trail, a Kochi-based not-for-profit organisation which produces bags from used newspapers, an initiative that helps financially-backward women to make a living. We urge you to buy "Paper Is Prettier" bags from Design & People and replace plastic bags at your home and at work. Use them over and over again, and thus maximise the utilisation of the resources of Mother Earth.
Support "Paper is Prettier" Project.
▮ Paper is Prettier: Photos | 'Paperman' Initiative